SIZE & PHYSICAL DETAILS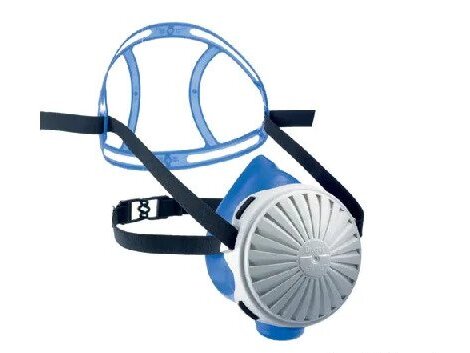 Dräger X-plore® 2100
The Dräger X-plore® 2100 is the reusable alternative to disposable dust masks. The X-plore®2100 is the ideal solution for people working frequently in dusty environments. Its replaceable filters provide protection against solid and liquid particles. This half mask offers the perfect combination of comfort, safety and cost-effectiveness.
Head harness with anti-slip head strap
One-piece with two adjustment points
Quick and easy donning and doffing
Excellent pressure distribution
Comfortable mask body
High quality tight fit
Choose between two high quality materials:
EPDM and Silicone
Two sizes for silicone masks:
for the best wearer comfort and tight fit
Dräger replacement filter
Protection levels FMP2 and FMP3
High filter efficiency and low breathing resistance
Quick and easy replacement of the replaceable filter
Very efficient in use
Flexible textile strap
Tighten the mask with one pull
"Drop-down" strap system with neck clips
Protection during breaks from work as well: The mask can be removed simply by opening –
the neck clips without removing the helmet
Protected against contamination in standby position: the mask remains with its inside against the body
Smooth-running exhalation valve
Comfortable microclimate in the mask: exhalation valve removes exhaled air to the outside from below
BENEFITS:
Excellent tight fit
The mask body of the X-plore 2100 offers a first class tight fit with clearly reduced leakage figures compared to conventional filtering facepiece respirators.
High level of wearing comfort
Optimal wearing comfort is achieved by two available high quality materials, EPDM and silicone, in two sizes.
Comfortable Breathing Zone Climate
The exhalation valve is located at the lowest point in the mask, which helps to effectively remove exhaled moisture and perspiration.
"Drop down" harness
The mask can be removed from the face without removing head protection by simply unclasping the neck fastener. While in the drop-down position, the face-seal portion of the mask remains against the body therefore protecting against contamination.
Large-Capacity filters
During frequent and prolonged use in dusty environments the practical replaceable FMP2 and FMP3 filters protect with high filter performance and low respiratory resistance against solid and liquid particles/aerosols.Very economical
The replaceable filters have a long service life. The easy to replace and low-cost filters make for an economic use.
Easy donning and doffing
The one-piece head harness with two adjustment points and anti-slip headgear ensure fast and trouble-free donning and doffing in addition to a very good pressure distribution.