SIZE & PHYSICAL DETAILS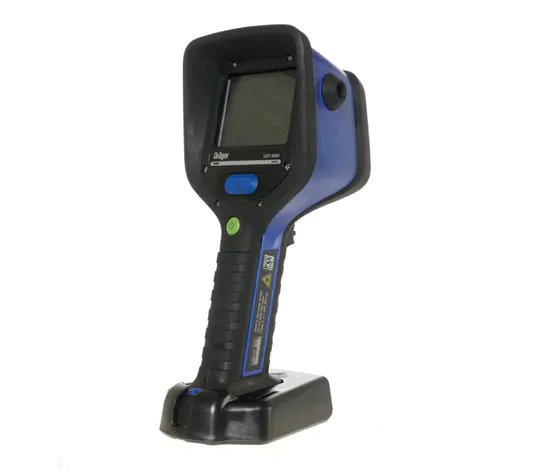 Dräger UCF® 6000
Missing important details at a fire scene can place lives at risk. But fire, smoke and darkness make visibility and navigation difficult. The UCF 6000 thermal imaging camera gives you valuable information in hazardous situations. The UCF 6000 is extremely easy to use and designed to be operated with one hand.
Stay one step ahead
Whether performing search and rescue, finding hotspots, or locating potential hazards, the Dräger UCF 6000 is the ideal thermal imaging camera. Meeting the diverse needs of today's firefighters, the UCF 6000 is equipped with a host of innovative features designed to optimize image quality, simplify operation, improve ergonomics, and expand the features to provide a wider range of benefits. The result is an innovative and rugged thermal imaging camera that combines accurate, reliable performance with ease of use in the most challenging situations.
Reliable and rugged
Even in the most hostile environments, where other imaging cameras fail, the UCF 6000 can be depended on to provide critical information quickly and easily, enabling firefighters to focus more on their actions and less on their equipment. The Dräger UCF 6000 is equipped with an extremely rugged and durable housing that resists heat, water, smoke, and dust. This enables the UCF 6000 to withstand the rigors of firefighting including damage from accidental drops and fumbles. Additionally, modern lithium-ion battery technology powers the UCF 6000 for up to 4 hours. This extended period of operation simplifies use and gives peace of mind during extended firefighting operations.
Convenient operation
As a true one-handed thermal imaging camera, the Dräger UCF 6000 means the other hand is always free when the user needs it. This ease of use is an invaluable benefit, adding safety as well as freedom of movement. The compact UCF 6000 weighs only 3.1 lbs, making the camera easy to operate without excess fatigue during extended firefighting operations. The intuitive design of the camera means there's less distraction for the user in difficult and stressful situations.
Extensive range of accessories
The Dräger UCF 6000 is shipped complete with USB cable, attachable "crawling plate", and PC software CD.
Improved viewing
The Dräger UCF 6000 provides excellent image quality in settings where fire, smoke, and darkness make visibility extremely limited and navigation difficult. A resolution of 160 x 120 pixels and a wide field of view (47°) provide the necessary image sharpness and dynamic range to stay safe—and get the job done right. The UCF 6000 also features a new adapted brightness sensor, so firefighters no longer have to "shadow" the display when operating the camera in direct sunlight. The UCF 6000 also has the ability to provide high-quality images across a broader temperature range. By providing clear and consistent imaging, the UCF 6000 makes it possible to accurately and quickly scan rooms and the surrounding vicinity in situations where every second counts.
Standard USB interface
The Dräger UCF 6000 is provided with USB 2.0 interface, which making it possible to configure the camera and transfer the thermal image directly to a PC.