SIZE & PHYSICAL DETAILS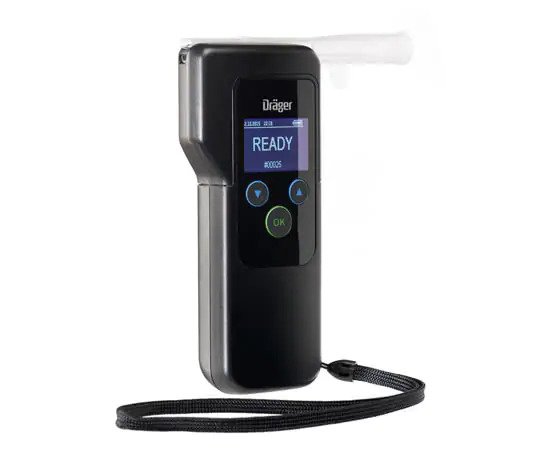 Dräger Alcotest® 5820
The Dräger Alcotest® 5820 allows the professional user to perform a breath alcohol test with speed and precision. The measuring technology of this small and user-friendly portable breathalyzer has already been proven with over 200,000 units in use worldwide.
Breath alcohol testing made easy
The device is ready to use within seconds. This means that you can perform an (active) test on a subject at any time to measure breath alcohol concentration (BrAC). It is also possible to measure alcohol in the ambient air (passive), in which case a mouthpiece isn't required.
All functions required for a measurement are activated with the convenient green OK button, while two menu buttons are used for navigation.
Versatile and tough
The tried and tested electro-chemical Dräger sensor in the Alcotest 5820 is distinguished by its very fast response times and a long service life. It operates with extreme precision and reliability. The analysis is reliable even at temperatures of -5 to +50°C/23 to 122°F. The sensor also delivers reliable results quickly in case of a high alcohol content, for both active and passive measurements.
Convenient to use
Dealing with intoxicated people requires a high degree of attention and concentration. An intuative operation of the device is an important aspect for ease of use and smooth breath testing procedures.
All measurement functions can be operated with just one button to make it easier for you to perform the test. The large back-lit display is easy to understand due to its full-text messages which guide you securely through the alcohol test. An LED and audible signal complement the display and indicate the end of a measurement process. Two menu buttons are used to navigate through the menu, enabling you to perform functions such as reviewing the last test results.
Always ready for use
On cold winter nights or a hot summer day: The device is ready for use almost immediately. The temperature range for measurements is from -5 to +50°C/23 to 122°F.
Simply hygienic: the Slide 'N' Click mouthpiece
The sophisticated product design meets the requirements for performing the breath alcohol test quickly, easily and hygienically: The shape of the Slide 'N' Click mouthpiece allows you to intuitively fit it correctly, even in the dark. The Alcotest 5820 is ready to use again immediately after changing the mouthpiece. Furthermore, attempts at obstruction are consistently rejected by the device: the air outlet cannot be closed, foiling any attempts to manipulate the device when giving a breath sample.
A spacer on the mouthpiece keeps the lips of the person being tested from coming into contact with the device's housing. The spacer can also be used as a mouthpiece ejector if necessary. Mouthpieces with return valve are also available upon request.