SIZE & PHYSICAL DETAILS
SNIZTOP
The natural and easy solution to combat sensitivity
environmental and seasonal.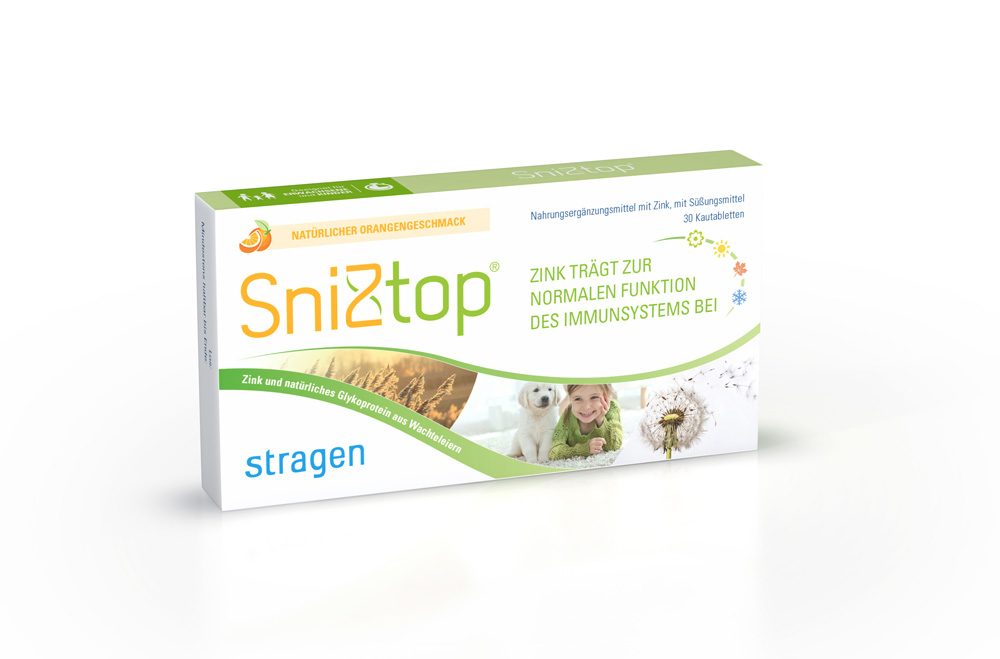 SNIZTOP
The formula of Sniztop is made from zinc and natural bioactive and unique – ovomucoucd a glycoprotein obtained from quail eggs. It is a nutritional supplement that naturally contributes to normal functioning of the immune system within 5 to 15 minutes.
Sniztop eases the main disturbing seasonal reactions caused by tree pollens, grass pollens, mites, dust, cat and dog inflammation.
WHAT IS THE RECOMMENDED POSOLOGY/USE?
Take 1 or 2 tablets for consumption. People can get that much tablets as needed, depending on their exposure to allergens. Therefore, the use of SniZtop is very flexible and convenient. SniZtop® can also be taken 15 to 20 minutes before
exposure to allergens (eg before meeting an animal household or before going out) to provide protection optimal.
WHAT ARE THE ENEMIES THAT SNIZTOP FIGHTS?
Pollen
Animal hair
House dust
Hypersensitivity
Allergic rhinitis
Atopic dermatitis
WHAT IS THE MAXIMUM DOSE?
The recommended use is 1 or 2 tablets for consumption
repeated as needed. The effectiveness of SniZtop that lasts for about 2 hours, 10 tablets a day is usually the maximum to cover the needs daily in case of continuous exposure to allergens. However, this maximum dose is only one recommendation which can to grow without concerns about toxicity (cf. toxicological expertise).
WHY PREFER SNIZTOP® VS PRODUCT ANTI-HISTAMINE?
SniZtop® cannot be positioned on the same level as medicines anti-histamine which provide allergy relief with 1 tablet in days. In the category of natural products, SniZtop® is the blocker of histamine alone, clinically proven in a randomized study, double blind, controlled by placebo to secure
acute relief of allergy symptoms with the subjects being felt better 15 minutes after taking the product. According to clinical results,
The effectiveness of SniZtop® lasts for about 2 hours after taking the product.
SniZtop® offers a serious solution for moderate consumption of medicines. Ultimately, SniZtop® can be taken apart anti-histamines which do not provide proper daily protection that should and that intake can not be repeated during the day.