SIZE & PHYSICAL DETAILS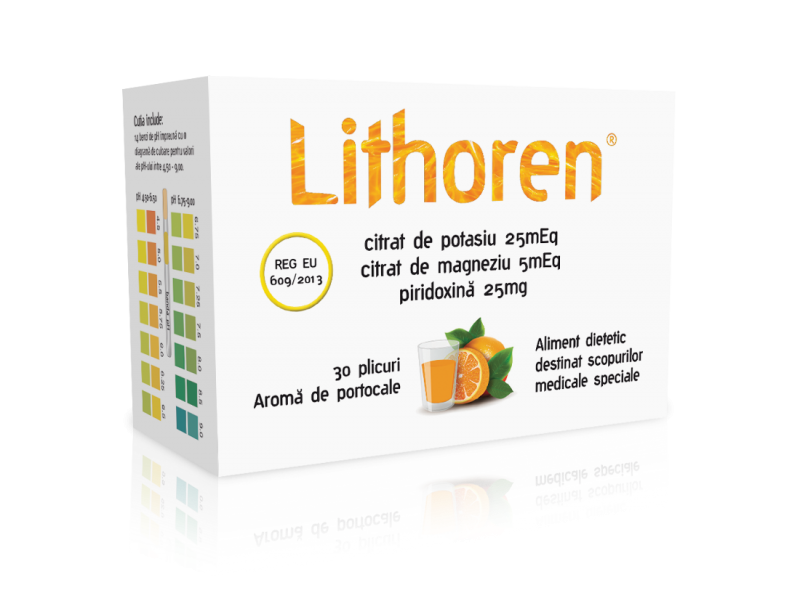 Lithoren ®
Lithoren është një integrator që përdoret për qëllime të veçanta mjekësore (FSMP) dhe përbërësit që veprojnë ¬ziologjikisht janë: citrat kaliumi, citrat magnezi dhe piridoksina.
Lithoren është gjithashtu një alkalinizues i urinës dhe si i tillë shkakton rritje të pH të urinës.
Lithoren nuk përmban natrium.
How to use
Take 2-3 sachets a day (1-2 in the evening and one in the morning). Getting to dinner is very important. Dissolve the sachet powder in 150 ml of water.
Ingredients
2.7 g of potassium citrate (25mEq potassium and 25mEq of citrate ions) (RDA of potassium = 2gr)
376 mg magnesium citrate (5mEq magnesium and 5mEq citrate ions) (RDA of magnesium = 300mg)
810 mg citric acid (12mEq of citrate ions) and 25 mg pyridoxine (RDA of pyridoxine = 1.5mg). Inactive ingredients are: sucralose, orange flavor, silicon dioxide.