SIZE & PHYSICAL DETAILS
Proxima® Border
One-piece stoma bags for people with ileostomy or colostomy having soft or liquid stools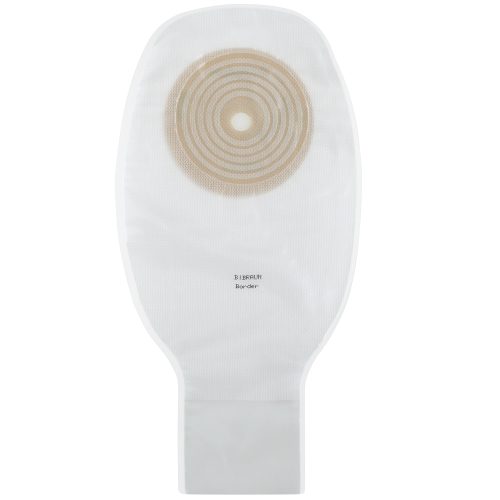 Proxima® Border
The skin protector of the Proxima® Border drainable 1-piece bags offers optimal skin protection, flexibility and comfort combined with an additional acrylic tape border. The micro perforated material on the skin side of the bag is washable. The bags have a large outlet for ileostomy or colostomy stool evacuation.
Features
Hydrocolloid skin protector with acrylic tape border for immediate adhesivity and extended wear time from 3 to 5 days*
Large drainable outlet of 7 cm that allows easier bag emptying and cleaning of the outlet
Can be closed either with the reusable rigid clamp or the single-use soft adhesive clamp provided in the box
Odor proof plastic film and washable micro perforated backing material on the skin side of the bag
Available in beige for more discretion and transparent for visuel control, e.g. after surgery
Cut-to-fit Ø10-70 mm
Bag capacity: +/- 680 ml (ISO 8670-2)
Boxes of 30 bags, 1 rigid clamp and 30 soft adhesive clamps
Indication
One-piece drainable bags for collection of body effluents for any person having undergone intestinal surgery of the ileostomy or colostomy type.