SIZE & PHYSICAL DETAILS
Visera Elite III
A new world of versatility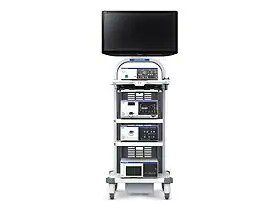 Visera Elite III
Today's ORs are multifunctional, supporting a range of surgical specialties. That's why VISERA ELITE II is fully flexible to the demands of any surgical procedure. It is an imaging platform for general surgery, for urology, for gynecology, for ENT, and more, which links the OR to other devices and facilities around the hospital. Share and play back images or videos with colleagues within the OR, within lecture theaters, or within departments to standardize training and perform peer-to-peer or patient consultations.
3D IMAGING
The Olympus 3D imaging solution offers surgeons a window to a new reality. With greater depth perception and anatomical spatial view than traditional 2D, it is proven to improve clinical outcomes.
Improved Speed
Greater Accuracy and Precision
Shorter Learning Curve
3D Image Rotation with the ENDOEYE 3D Laparoscope
Olympus has overcome the technical barrier of video image rotation with a 30° rigid laparoscope. This allows correct orientation, no matter what viewing angle is desired.
ENDOEYE technology uses distally located image sensors to maximize the 3D benefit and offer:
A brighter, more light-sensitive image
A greater depth of field
Focus Free (no need to focus manually)
Experience the New ENDOEYE 3D
Infrared Observation with VISERA ELITE II
VISERA ELITE II offers infrared (IR) imaging. This technology helps to improve the patient outcome during diagnostics or surgery.
Two Modes for IR Observation
Choose between overlay mode and IR only mode with just one switch.
A New Wave of Diagnostic Possibilities
Olympus Narrow Band Imaging (NBI) is an optical technology available for a variety of medical disciplines which helps to visualize the most minute vascular and mucosal patterns. A number of studies highlight the clinical value of NBI, especially with regard to the detection of cancer and characterization of suspicious mucosal areas.
One platform throughout a hospital
Increased quality of outcomes due to early detection of cancer and mucosal changes
Increased accuracy, ensuring malignant lesions are not missed in urothelial cancer management
No preparation required – technology available at the touch of a button at no extra cost
Comprehensive training programs available for all medical disciplines