SIZE & PHYSICAL DETAILS
Optera Video Colonoscope CF-H170
The CF-H170L/I is the ideal choice as a routine colonoscope.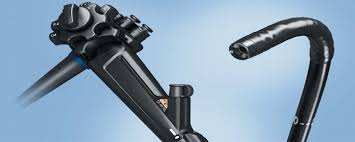 CF-H170
HDTV image quality and NBI (Narrow Band Imaging) achieve more advanced examination. In addition, Variables Stiffness function helps physician's insertion and reducing patient's pain.
FEATURES & BENEFITS
HDTV Image Quality
HDTV captures and displays clear images with precise details and accurate colors, helping you to perform more advanced procedures.
NBI (Narrow Band Imaging)
NBI facilitates observation of capillaries and other structures on the mucosal surface. It helps identify suspicious areas.
Close Focus
Close focus enables you to obtain an enlarged, close-up image by moving the scope tip as close as 2 mm from the mucosa.
Variable Stiffness
Variable stiffness helps to avoid re-loop of the endoscope, for example at the sigmoid colon, and also allows the stiffness of the scope to be adjusted on a case-by-case basis in order to meet the unique anatomical needs of each patient or the handling preferences of the physician.
Water Jet
This technology removes mucus and debris inside the colon at the press of a button on the scope or the footswitch unit, providing a clear view.
Waterproof Connector
The newly designed connector is fully submersible and therefore eliminates the need for a water-resistant cap, while minimizing the risk of damage due to accidental immersion.