SIZE & PHYSICAL DETAILS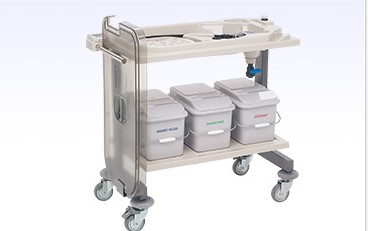 Manual Disinfector TD-20
The TD-20 Manual Disinfector, facilitates the cleaning and disinfection of Olympus flexible endoscopes.
FEATURES & BENEFITS
Features :
Compact and mobile – no requirement to be connected to water/ electricity supply.
Integral hand pump – situated in the trolley leg for improved operation and aesthetics.
Three fluid containers with lids – to allow scope processing from cleaning to disinfection and rinsing. The container lids minimise fluid evaporation, while the integral pouring lip and hand grip on the containers facilitate filling with little or no splashing.
Fluid irrigation connectors – all connectors are integral to the top tray, minimising the risk of splashing.
Smoked polycarbonate lid – helps prevent disinfectant evaporation while allowing visual monitoring of the scope at any stage of the cycle.
Integral timer with alarm – allows the disinfectant contact time to be accurately monitored.
Instrument tray – purpose designed to accept Olympus compatible endoscopes and their accessories in the minimum amount of disinfectant.
Construction :
The TD-20 Manual Disinfector has a powder-coated steel frame, vacuum-moulded ABS plastic instrument tray and shelf and smoked polycarbonate lid.
Three buckets with lids are supplied, together with channel connectors for compatible Olympus endoscopes and their accessories.
Occupational Health :
The Manual Disinfector requires the use of a cold fluid chemical disinfectant. It is important that whichever disinfectant is selected, the appropriate health and safety requirements for ventilation and personal protection are observed in accordance with the manufacturer's instructions.