SIZE & PHYSICAL DETAILS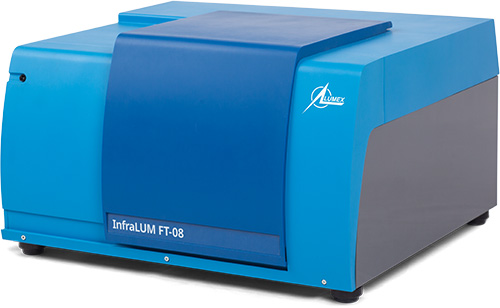 Infra Lum FT08


Our new FT mid-IR spectrometer InfraLUM FT-08 has been designed basing on our extensive R&D and expertise in the IR spectroscopy (infrared spectroscopy). This multipurpose and easy-to-operate instrument provides a well suited option for various analytical laboratories. The high-quality misalignment-proof optics, high-sensitivity DLATGS detector, and a wide variety of accessories ensure the users' absolute confidence in the high accuracy of the measurement data and make it an ideal tool for routine measurements at low inventory investment and running costs.
MEASUREMENT PROCEDURE
The instrument is operated by SpectraLUM software run under Windows environment, which provides simple control and allows even unskilled personnel to easily master the instrument operation.
All major functions, such as peak identification, derivative quantification, quantitative calibrations creation, etc., can easily be performed with SpectraLUM software. Library search module allows to plug spectra libraries and to create own user's libraries.
PRINCIPLE OF OPERATION
Is based on the measuring IR spectra using Fourier transform technique.
FEATURES AND BENEFITS
Patented high-quality misalignment-proof Double Cat's Eye interferometer
Hermetically sealed optical compartment with the automated moisture monitoring system
High-sensitivity DLATGS detector
Advanced radiation source with extended service life
Built-in smart total self-diagnostics system
Innovative ergonomic design of the spectrometer housing that provides best convenience for the operator
Large sample compartment 230 X 240 X 180mm
Wide variety of accessories, include complete line of compatible PIKE Technologies optical FTIR accessories
Intuitive comprehensible software with integrated calibration module & library search module
Automatic validation system of the spectrometer
Remote diagnostics of the spectrometer
AUTOMATION & USABILITY
Chemical industry
Identification of unknown chemical substances
Determination of raw material purity
Determination of fractional composition
Functional and structural-functional analysis
Determination of Water in Liquid Chlorine (ASTM E1754-17a)
Testing the composition of polymer films and coatings (ASTM D2124-99(2011), ASTM D2238-92(2012), ASTM D3124-98(2011), ASTM D3594-93(2013), ASTM D4660−12, ASTM D5576-00(2013), ASTM D5594-98(2012), ASTM D6248-98 (2012), ASTM D6645-01(2010), ASTM D8036−16, ASTM F2778-09(2015), ASTM F2102−13)
Testing the composition of rubber (ASTM D2702 – 05(2016), ASTM D3677-10(2015), ASTM D3900-15, ASTM D5670-95(2014), ASTM D6047−15, ISO 4650:2012)
Qualitative Classification of Surfactants ASTM D2357-11(2016)
Forensic investigations
Identification of impurities and trace amounts of substances.
Pharmaceutical industry
Determination of the authenticity of medicine preparations using IR reference standards
Quality control of medicine preparations using IR reference standards
Quality assurance of organic raw materials
Oil and gas industry
Determination of the composition of natural gas and gas industry products
Identification of unknown chemical substances
Determination of crude oil and gas purity
Determination of fractional composition
Functional and structural-functional analysis
Examination of electrical insulating oils (DIN IEC 60590:1986-09, D2144 – 07 (2013), D2668 − 07 (2013))
Condition Monitoring of Lubricants (ASTM D7214 − 07a (2012), ASTM D7412 − 09, ASTM D7414 − 09, ASTM D7415 − 09, ASTM D7624-10, ASTM D7844-12, ASTM D7889 − 13, ASTM E2412 – 10)
Determination of benzene in gasoline (DIN EN 238:2004, ASTM D4053-04(2009), ASTM D6277 – 07)
Determination of oxygenates in Gasoline (ASTM D5845 – 01(2016)
Biofuel analysis (concentration of FAME) (EN 14078:2014, ASTM D7371-14, ASTM D7806−12)
Ecological and sanitary monitoring
Detection of the presence of ozone-destructing substances
Measuring the content of petroleum hydrocarbons in water (ASTM D3921–96(2003), ASTM D7066−04(2011))
Measurement of Respirable Crystalline Silica in Workplace Air (ASTM D7948-14e1)
EQUIPMENT AND OPTIONS
InfraLUM FT-08 FT mid-IR spectrometer
SpectraLUM software package
Set of measuring cells, accessories and spectra libraries (on Customer request)