SIZE & PHYSICAL DETAILS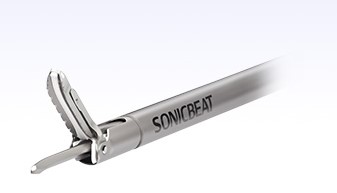 USG-400
The SONICBEAT is generating ultrasonic energy alone, but its design is based upon the same principles as THUNDERBEAT. In particular, unique wiper jaw mechanism and fine tip design allow faster cutting, easier dissection, more homogenous grasping force, plus equivalent sealing and hemostasis when compared to existing ultrasonic energy devices. It is driven by the latest Olympus Surgical Tissue Management System generator platform, as is the THUNDERBEAT, meaning further efficiencies can be made through generator standardisation across an operating department.
FEATURES & BENEFITS
Reliable 5mm vessel sealing capabiltiy
Consistent sealing of blood vessels up to 5 mm diameter. A unique wiper-jaw design distributes pressure evenly along the the jaw length for consistent sealing.
Rapid cutting speed contributes seamless operation flow
Simultaneous cutting and coagulation of tissue. The wiper-jaw mechanism applies homogenous force to the grasped tissue, which in turn supports smooth cutting.
Fine and easy dissection capabiltiy
Sonicbeat is an excellent dissector with its fine tip design and strong jaw opening apaerture.
Exellent grasper
Stable, high grasping forces throughout the jaws due to unique wiper jaw mechanism provides an alternative to conventional grasping instruments. Consequently SONICBEAT can contribute to less instrument usage and instrument exchanges for uninterupted operation flow.
Reduced smoke and mist generation
A fine tip design can result in reduced mist and spray during activation when compared to other ultrasonic devices, contrbuting to consistently clear laparoscopic view.
Olympus Surgical Tissue Management System
SONICBEAT is associated with Surgical Tissue Management System generators, a truly universal energy platform for the operating theatre.