SIZE & PHYSICAL DETAILS
EVIS X1
Our Most Advanced Endoscopy System.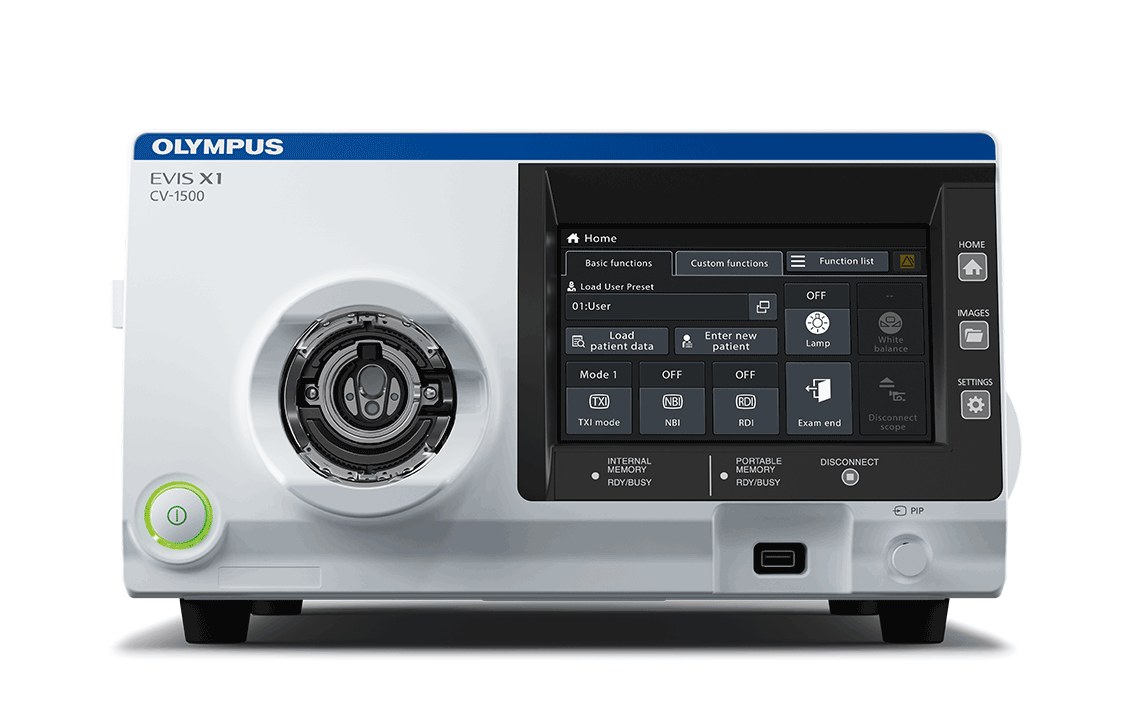 EVIS X1
EVIS X1 represents a range of new, easy-to-use technologies that aim to revolutionize the way gastrointestinal disorders can be detected, characterized and treated.
FEATURES & BENEFITS
EVIS X1 provides diagnostic and therapeutic innovation alongside proven technologies to improve endoscopic procedures and endoscope handling.
Responsive Insertion Technology (RIT)
Combines PB (Passive Bending), HFT (High Force Transmission) and variable stiffness to improve ease of insertion and operator control.
ScopeGuide
Provides a real-time, threedimensional view of the shape of the colonoscope during a procedure.
Dual Focus — Two-Stage Optical Lens Technology
Allows switching from normal focus to near focus mode with a single button, so physicians can conduct close examination of mucosal tissue and capillary networks.
Pre-Freeze Function — Updated Algorithm
Pre-freeze analyzes previous images to obtain a clear visual record of the procedure in the shortest possible time (this is an updated algorithm compared to the EVIS EXERA III / EVIS LUCERA ELITE systems).
Water Jet
Enabled by the auxiliary water channel, our Water Jet function improves the accuracy of observations and the efficiency of endoscopic treatment by easily removing mucus and other residues in the investigated areas.
Narrow Band Imaging (NBI)
NBI significantly outperforms other optical technologies in detecting cancer and characterizing suspicious mucosal areas.