Olympus is proud to introduce our latest generation video endoscopy system, EVIS EXERA III. A result of our commitment to research and development and our collaborative efforts with the medical community, EVIS EXERA III sets new standards for endoscopy by focusing upon:
– Advancing Visualisation
– Advancing Maneuverability
– Advancing Versatility
Innovative technologies in these focus areas help facilitate more accurate diagnosis and treatment, improve maneuverability, simplify setup and reprocessing, and link patient and department information to the hospital information system through smart integrative technologies.
EVIS EXERA III is Advancing the Art of Bronchoscopy with an array of opto-digital innovations.

Visualization
HDTV bronchoscopy
High-definition observation is now realised with HDTV image quality (BF-H190/ BF-1TH190). These sharp, clear images provide much more detailed and precise observation of bronchial surfaces.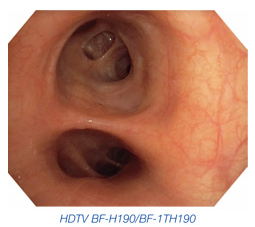 Enhanced image quality
The clear, high-resolution images of the latest EVIS EXERA III generation are achieved through the advanced OLYMPUS optics, the improved image sensors employed and a new CV-190 image processor that minimises halation and image noise.
NBI (Narrow Band Imaging)
NBI is now 50% brighter compared to previous models, offering improved vasculature visualisation. This can advance examination efficiency by helping to decrease examination time and reduce the need to take extra biopsies.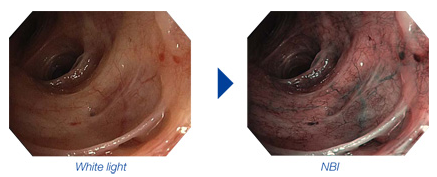 ---
Maneuverability
Insertion tube rotation function
Precise control
The insertion tube rotation function gives bronchoscopists precise control of the insertion tube. The operator can change the direction of the insertion tube by turning the rotation control ring instead of turning the bronchoscope's control section.
Smoother insertion and less tiring to manoeuvre
The insertion tube rotation function means that bronchoscopists need not assume unnatural, stressful positions when performing bronchoscopy. This unique function makes selection of bronchial branches much easier. Bronchoscopists can turn the control section back to a comfortable position while maintaining the position of the insertion tube.
Improved therapeutic capability
With the insertion tube rotation function, bronchoscopists can easily adjust the position of the distal end of bronchoscopes. This facilitates selection of the bronchi where EndoTherapy devices may be inserted.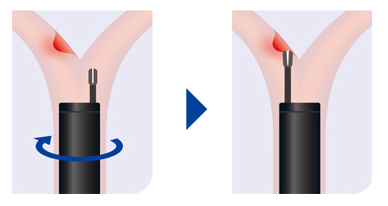 Easy access for the insertion of EndoTherapy devices
The operation of EndoTherapy devices involves both the bronchoscopist and assistant. The insertion tube rotation function can be used to adjust the instrument port to the most convenient and simple-to-reach position for the whole team.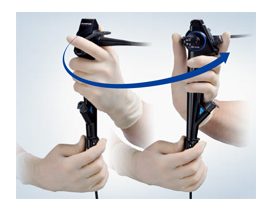 Wide angulation range
Compared to predecessors, BF-H190 and BF-Q190 in the EVIS EXERA III Series have a wider angulation range, allowing smoother insertion into the upper lobe bronchi and more of a bend in the scope while inserting an EndoTherapy device.

---
Versality
The art of bronchoscopy is sourced by the wide product line-up for interventional pulmonology. In addition EVIS EXERA III provides system compatibility with gastroenterology, ENT and surgical endoscopy.